In Qingdao region, there is no broiling summer or freezing winter. The annual average temperature in Qingdao city is 12.3℃. In the coldest month (January), the average temperature is – 0.9℃, and in the most broiling month (August), the average temperature is 25.3℃. With character of maritime climate, the daily temperature difference in Qingdao is comparatively small. It is a regular semi-diurnal tide with the mean water of 3.2 meters and a height of tide of 4 meters in summer.
The Qingdao International Airport is 80 km away from Haixiwan Shipbuilding Base. There are many airlines from Qingdao to Seoul, Pusan, Taegu, Tokyo, Osaka, Fukuoka, Singapore, Bangkok, Macao and Hong Kong, and there are also various through airliners from Qingdao to 34 cities in China. More than 7 airliners are available each day from Qingdao to Beijing or Shanghai.
Supported by Qingdao City, Haixiwan Shipbuilding & Ship-repairing Base possesses convenient traffic condition and excellent natural environment. The construction of the cross sea tunnel between Qingdao and Huangdao, with the length of 6km, will be started in 2006 and will be completed and used in 2009. So then, it will take less than 10 minutes from our company to Qingdao city town. Haixiwan, which is nearby Qingdao Qianwan Port and is only 3.5 km from the main navigation way, is very convenient to come into and leave out. Haixiwan, which is in the shape of "ω" and which is never affected by typhoon, is a very ideal place for shipbuilding and ship-repairing business, with deep, wide, no-freeze and no-silt port bay and with fine and stable mooring condition.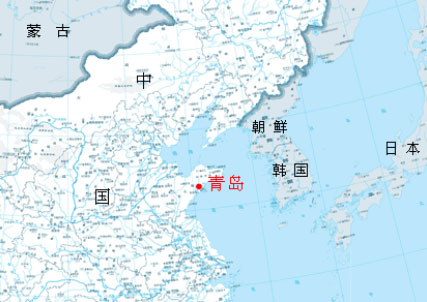 The location of Qingdao City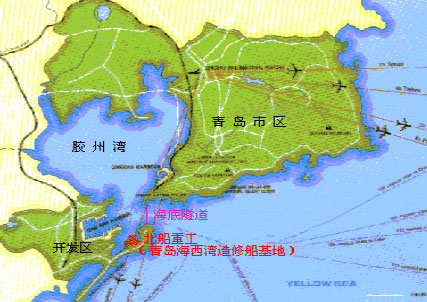 The location of BSIC on map of Qingdao City